Nigel A. Stippa, M.D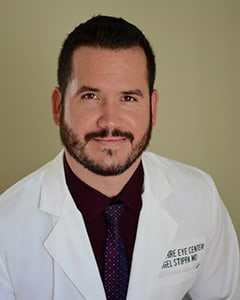 "I strive to serve my patients with care and compassion while delivering the best eye care possible. Every patient, just like every eye, is unique. I enjoy working alongside each patient to determine the best course of action to suit their individual needs and values.."
Board- eligible in Ophthalmology
Performs medical and surgical care as well as routine eye care for adults.
Special interest in medical diseases of the retina, including age-related macular degeneration and diabetic retinopathy
Training and Education

Undergraduate: Gordon College

Medical School: Stony Brook University

Internship: Mount Auburn Hospital, Cambridge, MA

Residency: Texas Tech University

Professional Experience
Dr. Nigel A. Stippa was born and raised in the Hudson Valley area in upstate New York. He first spent time in Massachusetts attending Gordon College on the north shore as an undergraduate. After graduating with honors in Chemistry and Chinese language, he returned to New York State where he obtained his M.D. at Stony Brook University in 2015.
While in medical school, he developed a passion for ophthalmology with a particular interest in the retina. After his medical internship in Cambridge, Massachusetts, he completed an ophthalmology residency at Texas Tech University in 2019 where he was appointed chief resident.
He underwent some subspecialty training in retina after his ophthalmology residency. Although he has a particular interest in retinal conditions, he found the most rewarding career path was one with the opportunity to practice general ophthalmology as well as treating retinal patients, an opportunity he found at Berkshire Eye Center.
He moved to Pittsfield and joined Berkshire Eye Center in 2020, where he takes care of patients with retinal conditions such as macular degeneration and diabetic retinopathy, in addition to common conditions such as cataracts, glaucoma, and those needing routine check-up exams. Outside of patient care, he enjoys spending time with his pet iguana, Claire, music, going camping, and learning foreign languages, such as Spanish, German, and Chinese.
Dr. Stippa is board-eligible in Ophthalmology having recently passed his written examination and is a member of the American Academy of Ophthalmology. He is currently accepting new patients for comprehensive eye care and retinal consultation.