Marcin Zygawski, M.D., F.A.C.S.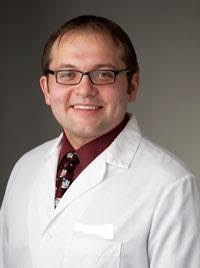 "My philosophy is to treat one patient at a time. This entails a doctor to listen, give meticulous attention to detail, and utilize the latest state of the art technology available in order to provide the best treatment for both medical and surgical conditions of the eye. High quality health care develops from the cultivation of the doctor patient relationship."

"After over a decade of practicing ophthalmology away from the Berkshires, I decided to come back to raise my family and had the privilege of joining Berkshire Eye Center. I hold a personal attachment to the area as I spent my first post-graduate internship year at Berkshire Medical Center and proposed to my lovely wife on a skiing trip in the Berkshires. I come from a very modest background and I am the son of two immigrants. I was raised nearby in Rensselaer County, New York, where I attended Averill Park High School. In my free time I enjoy spending time with my family, skiing, mountain biking and hiking. I also enjoy attending ECAC college hockey tournaments of which my alma mater, Rensselaer Polytechnic Institute, is a member."

Dr. Zygawski is an avid linguist who speaks English, French, German and Polish.
Board Certified in Ophthalmology
Fellow of American College of Surgeons
Practices medical and surgical care for patients of all ages and broad range of eye problems
Special interest in no-stitch cataract surgery, toric and multifocal lens implants, glaucoma care, dry eye management and surgical eyelid disorder management
Extensive experience with thousands of successful cataract and other surgical eye procedures performed
Training and Education

Undergraduate: Rensselaer Polytechnic Institute, Troy, NY

Medical School: Albany Medical College, Albany, NY

Internship: Berkshire Medical Center, Pittsfield, MA

Residency: Nassau University/Stony Brook Medical Center, Stony Brook, NY

Professional Experience

As a medical and surgical Ophthalmologist, Marcin Zygawski, MD, FACS, specializes in comprehensive ophthalmology and eye surgery, including no-stitch cataract surgery, anterior segment reconstruction, and basic oculo-plastic surgery of the eyelids. He also utilizes the latest laser procedures for glaucoma, retinal disorders, and other eye conditions. Dr. Zygawski has extensive experience in premium lens selection process and is the first one in Berkshire County to utilize both extended range presbyopia correcting Symfony lenses and PanOptix multifocal lenses. Most recently Dr. Zygawski introduced iStent Inject glaucoma procedure to our patients, a type of Micro-Invasive Glaucoma Surgery (MIGS), which both improves long term glaucoma control and is performed in conjunction with cataract surgery thus minimizing additional intervention.

Dr. Zygawski completed his medical school training at Albany Medical College in Albany, New York. Following an internship in internal medicine at the local Berkshire Medical Center in Pittsfield, Massachusetts, Dr. Zygawski completed his ophthalmology residency and served as chief resident at Nassau University/Stony Brook Medical Center on Long Island, New York. A Board Certified Ophthalmologist, Dr. Zygawski is a Diplomate of the American Board of Ophthalmology, a Fellow of the American Academy of Ophthalmology and a Fellow of the American College of Surgeons.

Upon completion of his residency training, Dr. Zygawski joined a private practice in the lower Hudson Valley, New York area where he developed extensive experiences in surgical treatments of complex eye problems. Afterwards, he spent two years in Cooperstown, New York, where he was an anterior segment ophthalmology surgeon and a clinical instructor for Columbia University College of Physicians and Surgeons, students and residents.

In 2015, Dr. Zygawski joined Berkshire Eye Center and shortly became a partner. Dr. Zygawski is pleased to be part of the Berkshire Eye Center family to bring his knowledge, expertise and care to our patients.